Court News
NEW: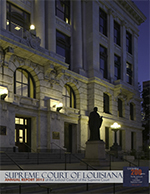 2013 Louisiana Supreme Court Annual Report (pdf)
2013 Guide to Louisiana Courts (pdf)
---
NEW: FREE ONE HOUR CLE
Free Online Resources at the Law Library of Louisiana - Thursday, September 11
---
NEW: Attorney Marta-Ann Schnabel, Chair of the Louisiana Judicial Campaign Oversight Committee announced that following the August 21-22 qualifying period for the fall 2014 elections, the Louisiana Judicial Campaign Oversight Committee, in conjunction with the Louisiana Supervisory Committee on Campaign Finance Disclosure, will be conducting free educational seminars throughout the state
---
2013-C -2879 [PARENTS OF MINOR CHILD] v. GEORGE J. CHARLET, JR., DECEASED, CHARLET FUNERAL HOME, INC., [THE PRIEST], AND THE ROMAN CATHOLIC CHURCH OF THE DIOCESE OF BATON ROUGE (Parish of E. Baton Rouge)
WEIMER, J., recused.
HUGHES, J., concurs and assigns reasons.

---
New Forms for Louisiana Clerks of Court
Act 405 Court Cost Remittance Form
Revised Monthly Civil Case Reporting Form

---
Louisiana Court Interpreter Training Program Information & Registration
(Training/Testing Calendar- 2014)
---
PLEASE NOTE: Please be advised that an e-mail is circulating purporting to be a Pretrial Notice for an appearance in "The Court of Louisiana." Please be aware that this e-mail did not originate from the Louisiana Supreme Court. Additionally, please be aware that any attachment associated with this e-mail may contain a virus and those receiving an e-mail similar to the above should not open the attachment.
---
Supreme Court Report in Response to HCR 143
---
Notice of Public Hearing - HCR 143 Committee - January 23, 2014 (pdf)
HCR 143 Meeting Notice - Presentation (pdf)
---
---
The Louisiana Supreme Court has enacted Part G, Section 13 of this Court's General Administrative Rules and Louisiana Civil Case Reporting Form for use in reporting on any case that "has been filed in state district court for damages arising from an offense or quasi-offense."
---
Financial Rule for Judges, Justices of the Peace, and Judicial Candidates
List of Delinquent Filers (updated 05/02/14)