Court News
NEW: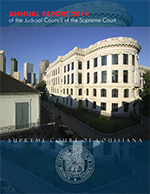 2014 Louisiana Supreme Court Annual Report (pdf)
2014 Guide to Louisiana Courts (pdf)
---
NEW: The Supreme Court of Louisiana invites qualified individuals to submit proposals to provide an Extract, Transfer and Load ("ETL") software tool as part of a data warehousing architecture that will be used to extract data from multiple data sources, transform the data to make it accessible to business analysis and load it to multiple target data marts. All proposals must be received by 5:00 p.m. on Tuesday, August 11, 2015.
ETL Software RFP (pdf)
---
PLEASE NOTE: Effective Monday, July 13 the Law Library of Louisiana hours will be Monday through Friday 9:00 am to 5:00 pm.
---
In a joint resolution, the Louisiana legislature commended the Louisiana Supreme Court for administering drug courts in the state since 2001 and for collaborating with Louisiana Association of Drug Court Professionals (LADCP) to ensure accountability and promote best practices in Louisiana drug courts. House Concurrent Resolution No. 216, was authored by Representative Chuck Kleckley and Senator John Alario
---
NEW: District Court Rules: Title IV Rules and Appendices for family law proceedings approved by the Louisiana Supreme Court; took effect July 1, 2015.
Following a 30-day public comment period, the Louisiana Supreme Court approved the new Title IV Rules and Appendices for family law proceedings on April 30, 2015. These new Rules and their Appendices took effect on July 1, 2015 and may be found on the Supreme Court's website (http://www.lasc.org/rules/dist.ct/TitleIV.asp#TITLE) and in West's 2015 Louisiana Rules of Court – Volume I – State book.
If you have any questions or comments concerning the new Title IV Rules and Appendices, please e-mail them to the Supreme Court's Court Rules Committee at distctrules@lasc.org or mail to: Court Rules Committee, 400 Royal Street, Suite 1190, New Orleans, LA 70130.
Thank you.
COURT RULES COMMITTEE & FAMILY COURT RULES COMMITTEE

---
NEW: July 24, 2015 Lafayette Parish Courthouse Court Closure Order (07/24/15)
Cameron Parish Clerk of Court Closure Order (05/28/15)
---
Law Library of Louisiana Director Georgia Chadwick has been awarded the Bethany J. Ochal Award for Distinguished Service by the State, Court and County Special Interest Section of the American Association of Law Libraries
---
Louisiana Supreme Court Chief Justice Bernette Joshua Johnson was presented the 2015 Diversity Leadership Award by the American Bar Association (ABA) Section of Litigation during the Diversity Leadership & John Minor Wisdom Awards Luncheon held at the Hyatt Regency Hotel in New Orleans
---
Report of the Supreme Court of Louisiana to the Louisiana Legislature in Response to H.R. No. 156 of the 2014 Regular Legislative Session
---
2013-C -2879 [PARENTS OF MINOR CHILD] v. GEORGE J. CHARLET, JR., DECEASED, CHARLET FUNERAL HOME, INC., [THE PRIEST], AND THE ROMAN CATHOLIC CHURCH OF THE DIOCESE OF BATON ROUGE (Parish of E. Baton Rouge)
WEIMER, J., recused.
HUGHES, J., concurs and assigns reasons.

---
New Forms for Louisiana Clerks of Court
Act 405 Court Cost Remittance Form (pdf) (Fillable PDF form)

Revised Monthly Civil Case Reporting Form (pdf) (Fillable PDF form)
Acts 403 & 404 Reporting Form - Civil Case Commitment Reporting for Submission to NICS
Acts 403 & 404 - Commitment - Restoration of Weapons Rights Reporting for Submission to NICS
---
Louisiana Court Interpreter Training Program Information & Registration
(Training/Testing Calendar- 2015)
---
PLEASE NOTE: Please be advised that an e-mail is circulating purporting to be a Pretrial Notice for an appearance in "The Court of Louisiana." Please be aware that this e-mail did not originate from the Louisiana Supreme Court. Additionally, please be aware that any attachment associated with this e-mail may contain a virus and those receiving an e-mail similar to the above should not open the attachment.
---
The Louisiana Supreme Court has enacted Part G, Section 13 of this Court's General Administrative Rules and Louisiana Civil Case Reporting Form for use in reporting on any case that "has been filed in state district court for damages arising from an offense or quasi-offense."
---
Financial Rule for Judges, Justices of the Peace, and Judicial Candidates
List of Delinquent Filers (updated 04/27/15)
---
Supreme Court Report in Response to HCR 143
---
Notice of Public Hearing - HCR 143 Committee - January 23, 2014 (pdf)
HCR 143 Meeting Notice - Presentation (pdf)
---