Court News
NEW: The Office of Special Counsel (OSC) of the Judiciary Commission of Louisiana invites certified court reporters (individuals or companies) to submit quotes for providing court reporting services. All quotes must be received by 5:00 p.m., Friday, December 6, 2013.

Request for Quotes (RFQ) for Court Reporting Services

---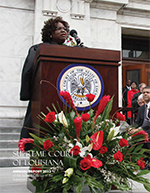 2012 Louisiana Supreme Court Annual Report (pdf)
2012 Guide to Louisiana Courts (pdf)
---
Louisiana Supreme Court Rules Part A, Rules II, IV, V, VII, IX and X amended effective July 1, 2013
---
Louisiana Court Interpreter Training Program Information & Registration
(Training/Testing Calendar- 2014)
---
---
The Louisiana Supreme Court has enacted Part G, Section 13 of this Court's General Administrative Rules and Louisiana Civil Case Reporting Form for use in reporting on any case that "has been filed in state district court for damages arising from an offense or quasi-offense."
---
Financial Rule for Judges, Justices of the Peace, and Judicial Candidates
List of Delinquent Filers (updated 10/15/13)
News Release Alert Service
Subscribe to the news release alert service and receive an e-mail each time a news release is posted on the court's web site.

News Release alerts are also available through the Supreme Court's RSS service. The News Release RSS feed is free of charge, for individual, non-commercial use and users may incorporate the RSS feed into their preferred newsreaders and web logs.