Court News
NEW: CALL FOR COMMENTS: PROPOSED AMENDMENT TO SUPREME COURT RULE XXX, RULE 3(d) (MANDATORY CONTINUING LEGAL EDUCATION)
---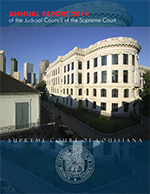 2014 Louisiana Supreme Court Annual Report (pdf)
2014 Guide to Louisiana Courts (pdf)
---
38th JDC Temporary Relocation Order (08/26/15)
---
Louisiana Supreme Court Justice Jefferson D. Hughes III, and seven other public officials were inducted into the Louisiana Justice Hall of Fame
---
Law Library of Louisiana Director Georgia Chadwick has been awarded the Bethany J. Ochal Award for Distinguished Service by the State, Court and County Special Interest Section of the American Association of Law Libraries
---
Louisiana Supreme Court Chief Justice Bernette Joshua Johnson was presented the 2015 Diversity Leadership Award by the American Bar Association (ABA) Section of Litigation during the Diversity Leadership & John Minor Wisdom Awards Luncheon held at the Hyatt Regency Hotel in New Orleans
---
Report of the Supreme Court of Louisiana to the Louisiana Legislature in Response to H.R. No. 156 of the 2014 Regular Legislative Session
---
2013-C -2879 [PARENTS OF MINOR CHILD] v. GEORGE J. CHARLET, JR., DECEASED, CHARLET FUNERAL HOME, INC., [THE PRIEST], AND THE ROMAN CATHOLIC CHURCH OF THE DIOCESE OF BATON ROUGE (Parish of E. Baton Rouge)
WEIMER, J., recused.
HUGHES, J., concurs and assigns reasons.

---
New Forms for Louisiana Clerks of Court
Act 405 Court Cost Remittance Form (pdf) (Fillable PDF form)

Revised Monthly Civil Case Reporting Form (pdf) (Fillable PDF form)
Acts 403 & 404 Reporting Form - Civil Case Commitment Reporting for Submission to NICS
Acts 403 & 404 - Commitment - Restoration of Weapons Rights Reporting for Submission to NICS
---
Louisiana Court Interpreter Training Program Information & Registration
(Training/Testing Calendar- 2015)
---
PLEASE NOTE: Please be advised that an e-mail is circulating purporting to be a Pretrial Notice for an appearance in "The Court of Louisiana." Please be aware that this e-mail did not originate from the Louisiana Supreme Court. Additionally, please be aware that any attachment associated with this e-mail may contain a virus and those receiving an e-mail similar to the above should not open the attachment.
---
The Louisiana Supreme Court has enacted Part G, Section 13 of this Court's General Administrative Rules and Louisiana Civil Case Reporting Form for use in reporting on any case that "has been filed in state district court for damages arising from an offense or quasi-offense."
---
Financial Rule for Judges, Justices of the Peace, and Judicial Candidates
List of Delinquent Filers (updated 04/27/15)
---
Supreme Court Report in Response to HCR 143
---
Notice of Public Hearing - HCR 143 Committee - January 23, 2014 (pdf)
HCR 143 Meeting Notice - Presentation (pdf)
---