Some items on this page are in portable document format (pdf). To get a free copy of the Adobe Acrobat PDF reader, please visit the Adobe website.
State of Judicial Performance in Louisiana:
Justice at Work, the annual judicial performance report, is now available in an nteractive format! The report includes detailed information about state courts at every level.
2015-2016 State of Judicial Performance in Louisiana (interactive online document)
2014-2015 State of Judicial Performance in Louisiana (interactive online document)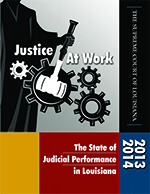 2013-2014 State of Judicial Performance in Louisiana (pdf)
2012-2013 State of Judicial Performance in Louisiana (pdf)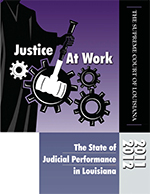 2011-2012 State of Judicial Performance in Louisiana (pdf)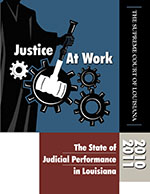 2010-2011 State of Judicial Performance in Louisiana (pdf)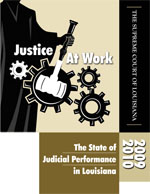 2009-2010 State of Judicial Performance in Louisiana (pdf)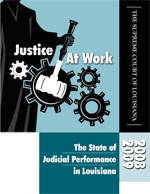 2008-2009 State of Judicial Performance in Louisiana (pdf)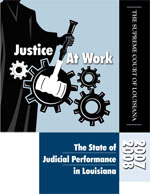 2007-2008 State of Judicial Performance in Louisiana (pdf)
2006-2007 State of Judicial Performance in Louisiana (pdf)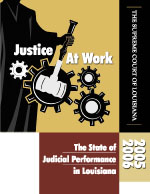 2005-2006 State of Judicial Performance in Louisiana (pdf)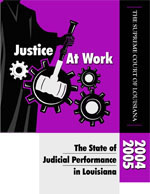 2004-2005 State of Judicial Performance in Louisiana (pdf)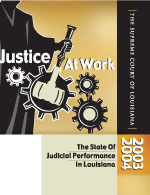 2003-2004 State of Judicial Performance in Louisiana (pdf)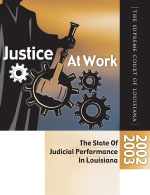 2002-2003 State of Judicial Performance in Louisiana (pdf)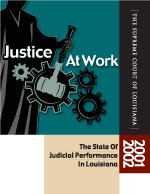 2001-2002 State of Judicial Performance in Louisiana (pdf)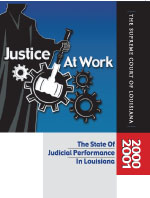 2000-2001 State of Judicial Performance in Louisiana (pdf)