Court News
NEW: COURT CLOSURE ORDERS AND INFORMATION
Due to the impending severe weather, The Louisiana Supreme Court will be closing at noon on Thursday, April 18, 2019.
Due to the expected severe weather, The Court of Appeal, Fourth Circuit will close at 12 noon, April 18, 2019. The court will suspend the Convenience Fee Charge associated with use of its Electronic Filing System beginning at 12 noon. In case of an emergency, please contact Clerk of Court, Justin I. Woods.
19th Judicial District Court (04/18/19) - EBRP Clerk of Court, 19th JDC and City of Baton Rouge offices have been closed for Thursday, April 18, 2019. The East Baton Rouge Parish Juvenile Court will be closed April 18, 2019 and reopen for regular business on Monday, April 22, 2019.
Due to the extreme weather forecast, the 22nd JDC will close Thursday, April 18, 2019 at 12 noon. The clerks' offices for St. Tammany and Washington Parishes will also close.
---
NEW: Executive Summary and Annual Report of the Louisiana Human Trafficking Prevention Commission
---
A Law Library of Louisiana Free CLE Co-sponsored by the Supreme Court of Louisiana Historical Society on "Pierre Soulé: Advocate of Liberty"
---
Public Comment Hearing and Written Comment Period for Reports from the Price of Justice Grant Advisory Committee
---
Chief Justice Bernette Joshua Johnson receives Prestigious Gertrude E. Rush Award
---
REQUEST FOR PROPOSALS 2019-02: The Supreme Court of Louisiana invites qualified firms to submit proposals to provide professional/technical financial and performance internal auditing services. Proposals will be accepted until at 4:00 p.m. on Friday, March 29, 2019.
---
Chief Justice Bernette Joshua Johnson to receive Gertrude E. Rush Award
---
The procedure for applying for Judicial Council recommendation regarding a new or increased court cost has changed. As per Act 553 of 2018, the application deadline for a new or increased cost has been changed to October 15 of the year prior to the calendar year the proposal is intended to introduced in the legislature.
Please use the new application and guidelines posted here:
Court Cost/Fee Guidelines (PDF) (revised October, 2018)
Court Cost Application Form (PDF) (revised September, 2018)
---
New Exhibit Celebrating the New Orleans Tricentennial!
"Colonial Law in New Orleans, 1718-1803: Olde World Law in a New Land"
The Law Library is proud to debut a new permanent exhibit in the Louisiana Supreme Court Museum on colonial law in New Orleans. The exhibit discusses the legal landscape of the new French colony as it was established and the changes in the law as the colony transitioned to Spanish rule, then back again to French, before joining the United States. The exhibit features notable Louisiana and New Orleans leaders and their impact on the law.
---
Aimed at reducing the jail population in New Orleans, a new Public Safety Assessment (PSA) model was unveiled to assist judges and the Orleans Parish Criminal District Court Pretrial Services department with assessing the risk level defendants pose if released pending trial
---
REQUEST FOR QUALIFICATIONS 2018-001: The Louisiana Judicial College, Supreme Court of Louisiana is requesting Statements of Qualifications from qualified individuals (retired specialty court judges) interested in serving as an independent consultant to the new Louisiana Highway Safety Commission Judicial Outreach Liaison Program. Statements of Qualifications will be accepted until 4:00 p.m. (CT), on Friday, April 27, 2018.
---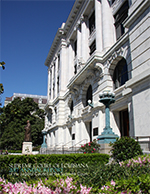 2017 Louisiana Supreme Court Annual Report (pdf)
2017 Guide to Louisiana Courts (pdf)
---
Supreme Court Tasks LSBA with MCLE Administration
---
Louisiana's Justice Reinvestment Reforms Practitioners' Guide (8/1/17)
Louisiana Justice Reinvestment Task Force Report and Recommendations (3/16/17)
---
Louisiana Court Interpreter Training Program Information & Registration
(Training/Testing Calendar- 2018)
---
---
Forms for Louisiana Clerks of Court

Louisiana Judicial College 50 Cent Court Cost Remittance Form (Form A) Revised August 2016 (pdf) (Fillable PDF form)

Revised Monthly Civil Case Reporting Form (pdf) (Fillable PDF form)
Acts 403 & 404 Reporting Form - Civil Case Commitment Reporting for Submission to NICS
Acts 403 & 404 - Commitment - Restoration of Weapons Rights Reporting for Submission to NICS
---
Report of the Supreme Court of Louisiana to the Louisiana Legislature in Response to H.R. No. 156 of the 2014 Regular Legislative Session
---
The Louisiana Supreme Court has enacted Part G, Section 13 of this Court's General Administrative Rules and Louisiana Civil Case Reporting Form for use in reporting on any case that "has been filed in state district court for damages arising from an offense or quasi-offense."
---
Financial Rule for Judges, Justices of the Peace, and Judicial Candidates
List of Delinquent Filers (updated 07/07/16)
---
PLEASE NOTE: Please be advised that an e-mail is circulating purporting to be a Pretrial Notice for an appearance in "The Court of Louisiana." Please be aware that this e-mail did not originate from the Louisiana Supreme Court. Additionally, please be aware that any attachment associated with this e-mail may contain a virus and those receiving an e-mail similar to the above should not open the attachment.