Court News
NEW: COURT CLOSURE ORDER
---
Updated Louisiana District Court Rules Now Online
Following a 30-day public comment period and Committee review of all comments received, the Louisiana Supreme Court approved the latest District Court Rules amendments on May 16, 2017. The effective date of these amendments is July 1, 2017.
Thank you.
Court Rules Committee
---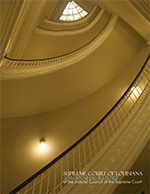 2016 Louisiana Supreme Court Annual Report (pdf)
2016 Guide to Louisiana Courts (pdf)
---
Louisiana Justice Reinvestment Task Force Report and Recommendations (3/16/17)
---
---
Forms for Louisiana Clerks of Court

Louisiana Judicial College 50 Cent Court Cost Remittance Form (Form A) Revised August 2016 (pdf) (Fillable PDF form)

Revised Monthly Civil Case Reporting Form (pdf) (Fillable PDF form)
Acts 403 & 404 Reporting Form - Civil Case Commitment Reporting for Submission to NICS
Acts 403 & 404 - Commitment - Restoration of Weapons Rights Reporting for Submission to NICS
---
Report of the Supreme Court of Louisiana to the Louisiana Legislature in Response to H.R. No. 156 of the 2014 Regular Legislative Session
---
Louisiana Court Interpreter Training Program Information & Registration
(Training/Testing Calendar- 2017)
---
The Louisiana Supreme Court has enacted Part G, Section 13 of this Court's General Administrative Rules and Louisiana Civil Case Reporting Form for use in reporting on any case that "has been filed in state district court for damages arising from an offense or quasi-offense."
---
Financial Rule for Judges, Justices of the Peace, and Judicial Candidates
List of Delinquent Filers (updated 07/07/16)
---
PLEASE NOTE: Please be advised that an e-mail is circulating purporting to be a Pretrial Notice for an appearance in "The Court of Louisiana." Please be aware that this e-mail did not originate from the Louisiana Supreme Court. Additionally, please be aware that any attachment associated with this e-mail may contain a virus and those receiving an e-mail similar to the above should not open the attachment.