Court News
NEW: The Court Rules Committee has completed its Fall 2018 proposed amendments to the Louisiana District Court Rules, and these proposed amendments, as well as a summary of the proposed amendments, may be found here:
FALL 2018 PROPOSED AMENDMENTS TO LOUISIANA DISTRICT COURT RULES
These proposed amendments will appear on this website for thirty days beginning on October 16, 2018.
Interested parties who wish to comment on these proposed changes during the thirty-day period may do so via electronic mail, facsimile, or U.S. Mail. Please direct all e-mails to distctrules@lasc.org. Comments also may be faxed to the Court Rules Committee at 504-310-2606 or mailed to: Court Rules Committee, Louisiana Supreme Court, 400 Royal Street, Suite 1190, New Orleans, LA 70130.
Once the thirty-day comment period has expired, the Court Rules Committee will review all comments received, make any changes it deems appropriate, and then submit a final draft to the Louisiana Supreme Court for review and approval. All approved amendments will take effect on January 1, 2019.
Thank you.
Court Rules Committee
---
NEW: REQUEST FOR PROPOSALS 2018-03: The Supreme Court of Louisiana, Office of the Judicial Administrator ("Court") invites qualified Court and Community Liaison in Louisiana to submit proposals to serve as an independent training consultant to the Louisiana Protective Order Registry ("LPOR"). Sealed proposals will be accepted until 4:00 p.m. (CST) on Monday, November 12, 2018.
---
NEW: The procedure for applying for Judicial Council recommendation regarding a new or increased court cost has changed. As per Act 553 of 2018, the application deadline for a new or increased cost has been changed to October 15 of the year prior to the calendar year the proposal is intended to introduced in the legislature.
Please use the new application and guidelines posted here:
Court Cost/Fee Guidelines (PDF) (revised October, 2018)
Court Cost Application Form (PDF) (revised September, 2018)
---
New Exhibits Celebrating the New Orleans Tricentennial!
"Colonial Law in New Orleans, 1718-1803: Olde World Law in a New Land"
The Law Library is proud to debut a new permanent exhibit in the Louisiana Supreme Court Museum on colonial law in New Orleans. The exhibit discusses the legal landscape of the new French colony as it was established and the changes in the law as the colony transitioned to Spanish rule, then back again to French, before joining the United States. The exhibit features notable Louisiana and New Orleans leaders and their impact on the law.
New Exhibit on Famous New Orleanians in the Law Library
Did you know the Law Library's book collection extends beyond just law books? The Law Library has an extensive collection of Louisana and New Orleans history books as well. The exhibit showcases our collection of books about famous New Orleanians, as part of the tricentennial celebration.
---
Aimed at reducing the jail population in New Orleans, a new Public Safety Assessment (PSA) model was unveiled to assist judges and the Orleans Parish Criminal District Court Pretrial Services department with assessing the risk level defendants pose if released pending trial
---
REQUEST FOR PROPOSALS 2018-02: The Judiciary Commission of Louisiana, Supreme Court of Louisiana invites qualified vendors to submit proposals for replacement of the current Matter and Case Management System. Sealed proposals will be accepted until 4:00 p.m. (CST) on Thursday, May 10, 2018.
NEW: NOTICE OF INTENT TO AWARD CONTRACT RFP 2018-002
---
REQUEST FOR QUALIFICATIONS 2018-001: The Louisiana Judicial College, Supreme Court of Louisiana is requesting Statements of Qualifications from qualified individuals (retired specialty court judges) interested in serving as an independent consultant to the new Louisiana Highway Safety Commission Judicial Outreach Liaison Program. Statements of Qualifications will be accepted until 4:00 p.m. (CT), on Friday, April 27, 2018.
---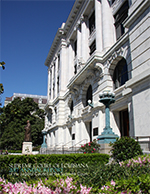 2017 Louisiana Supreme Court Annual Report (pdf)
2017 Guide to Louisiana Courts (pdf)
---
Supreme Court Tasks LSBA with MCLE Administration
---
REQUEST FOR PROPOSALS LASC 2018-001: The Supreme Court of Louisiana invites qualified vendors to submit proposals for dental insurance. All proposals must be received by 4:00 p.m. (CT), on Tuesday, March 6, 2018. A copy of the Request for Proposal can be found here.
---
Louisiana's Justice Reinvestment Reforms Practitioners' Guide (8/1/17)
Louisiana Justice Reinvestment Task Force Report and Recommendations (3/16/17)
---
Louisiana Court Interpreter Training Program Information & Registration
(Training/Testing Calendar- 2018)
---
---
Forms for Louisiana Clerks of Court

Louisiana Judicial College 50 Cent Court Cost Remittance Form (Form A) Revised August 2016 (pdf) (Fillable PDF form)

Revised Monthly Civil Case Reporting Form (pdf) (Fillable PDF form)
Acts 403 & 404 Reporting Form - Civil Case Commitment Reporting for Submission to NICS
Acts 403 & 404 - Commitment - Restoration of Weapons Rights Reporting for Submission to NICS
---
Report of the Supreme Court of Louisiana to the Louisiana Legislature in Response to H.R. No. 156 of the 2014 Regular Legislative Session
---
The Louisiana Supreme Court has enacted Part G, Section 13 of this Court's General Administrative Rules and Louisiana Civil Case Reporting Form for use in reporting on any case that "has been filed in state district court for damages arising from an offense or quasi-offense."
---
Financial Rule for Judges, Justices of the Peace, and Judicial Candidates
List of Delinquent Filers (updated 07/07/16)
---
PLEASE NOTE: Please be advised that an e-mail is circulating purporting to be a Pretrial Notice for an appearance in "The Court of Louisiana." Please be aware that this e-mail did not originate from the Louisiana Supreme Court. Additionally, please be aware that any attachment associated with this e-mail may contain a virus and those receiving an e-mail similar to the above should not open the attachment.