Court News
NEW: COURT CLOSURE ORDER AND INFORMATION
19TH JDC COURT CLOSURE ORDER - The Nineteenth Judicial District Court for the Parish of East Baton Rouge shall be closed on Monday, October 23, 2017.
---
NEW: A Law Library of Louisiana Free CLE co-sponsored by the Supreme Court of Louisiana Historical Society
"Who is Sally Miller? The Stranger Than Fiction Case of MILLER v. BELMONTI"
Thursday, October 26, 2017, 12 p.m. – 1 p.m.
---
NEW: REQUEST FOR PROPOSALS LASC 2017-001: The Supreme Court of Louisiana invites qualified vendors to submit proposals for providing a new drug court case management system. All proposals must be received by 4:00 p.m. (CST), on Friday, October 13, 2017. A copy of the Request for Proposal can be found here.
Addendum #1: Extension of Deadline and Revision of Evaluation Criteria
---
Louisiana judges, dressed in their robes, gathered at St. Louis Cathedral in Jackson Square Monday, October 2 for the 65th annual Red Mass ceremony
---
Louisiana's Justice Reinvestment Reforms Practitioners' Guide (8/1/17)
Louisiana Justice Reinvestment Task Force Report and Recommendations (3/16/17)
---
Louisiana Court Interpreter Training Program Information & Registration
(Training/Testing Calendar- 2018)
---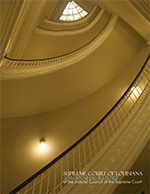 2016 Louisiana Supreme Court Annual Report (pdf)
2016 Guide to Louisiana Courts (pdf)
---
---
Forms for Louisiana Clerks of Court

Louisiana Judicial College 50 Cent Court Cost Remittance Form (Form A) Revised August 2016 (pdf) (Fillable PDF form)

Revised Monthly Civil Case Reporting Form (pdf) (Fillable PDF form)
Acts 403 & 404 Reporting Form - Civil Case Commitment Reporting for Submission to NICS
Acts 403 & 404 - Commitment - Restoration of Weapons Rights Reporting for Submission to NICS
---
Report of the Supreme Court of Louisiana to the Louisiana Legislature in Response to H.R. No. 156 of the 2014 Regular Legislative Session
---
The Louisiana Supreme Court has enacted Part G, Section 13 of this Court's General Administrative Rules and Louisiana Civil Case Reporting Form for use in reporting on any case that "has been filed in state district court for damages arising from an offense or quasi-offense."
---
Financial Rule for Judges, Justices of the Peace, and Judicial Candidates
List of Delinquent Filers (updated 07/07/16)
---
PLEASE NOTE: Please be advised that an e-mail is circulating purporting to be a Pretrial Notice for an appearance in "The Court of Louisiana." Please be aware that this e-mail did not originate from the Louisiana Supreme Court. Additionally, please be aware that any attachment associated with this e-mail may contain a virus and those receiving an e-mail similar to the above should not open the attachment.