CONTACT:

Trina S. Vincent
504-310-2590
| | |
| --- | --- |
| OCTOBER 21, 2019 | FOR IMMEDIATE RELEASE |
LOUISIANA SUPREME COURT HEARD ORAL ARGUMENT AT
LOYOLA UNIVERSITY SCHOOL OF LAW
(New Orleans, LA – Oct. 21 2019) The Justices of the Louisiana Supreme Court held oral argument at the Loyola University College of Law today as part of an ongoing effort to provide law students, university students, faculty, and the general public a first-hand experience of how the court operates. The Court heard oral argument on three cases, including one case involving use of a non-unanimous jury in a criminal case in which the crime occurred before Louisiana law was changed to require unanimous juries and the constitutionality of the court's actions. After oral argument the Justices adjourned to converse with the law students.
"For over 20 years, holding court in venues other than at the Louisiana Supreme Court has been a tradition of the Court known as 'riding the circuit,'" said Chief Justice Bernette Joshua Johnson. "Today's goal of riding the circuit was to provide those in attendance an opportunity to witness the variety and complexity of litigation at the state's highest appellate level."
In the court's early history, before transportation made it possible to travel easily to New Orleans, the Louisiana Supreme Court was constitutionally required to "ride the circuit" to ensure citizens statewide would have access to justice. Supreme Court Justices traveled to parishes throughout the state to hear oral argument.
"We are honored that the Court chose to host oral arguments at Loyola." said Loyola Law Dean and Judge Adrian G. Duplantier Distinguished Professor of Law Madeleine M. Landrieu. "The Court's commitment to allow oral arguments to be shared with the general public allows greater participation in the process."
"Loyola has long stood for justice," said Distinguished Professor of Law Monica Hof Wallace, Executive Director of the Law Advocacy Center at Loyola. "Seeing it in action in our own halls inspires our students to reach higher, to be better, and to understand that advocating for others is both a responsibility and a privilege."
In preparation for oral arguments, Dean Landrieu provided case briefs and hosted a pre-session with students highlighting the major issues of the cases.
For more information visit lasc.org, law.loyno.edu/, contact Louisiana Supreme Court Public Information Specialist, Trina S. Vincent at tvincent@lasc.org, or Loyola University College of Law Associate Director of Public Affairs, Patricia Murret at pmurret@loyno.edu, (504) 861-5448 (desk), (504) 352-8775 (cell).
-30-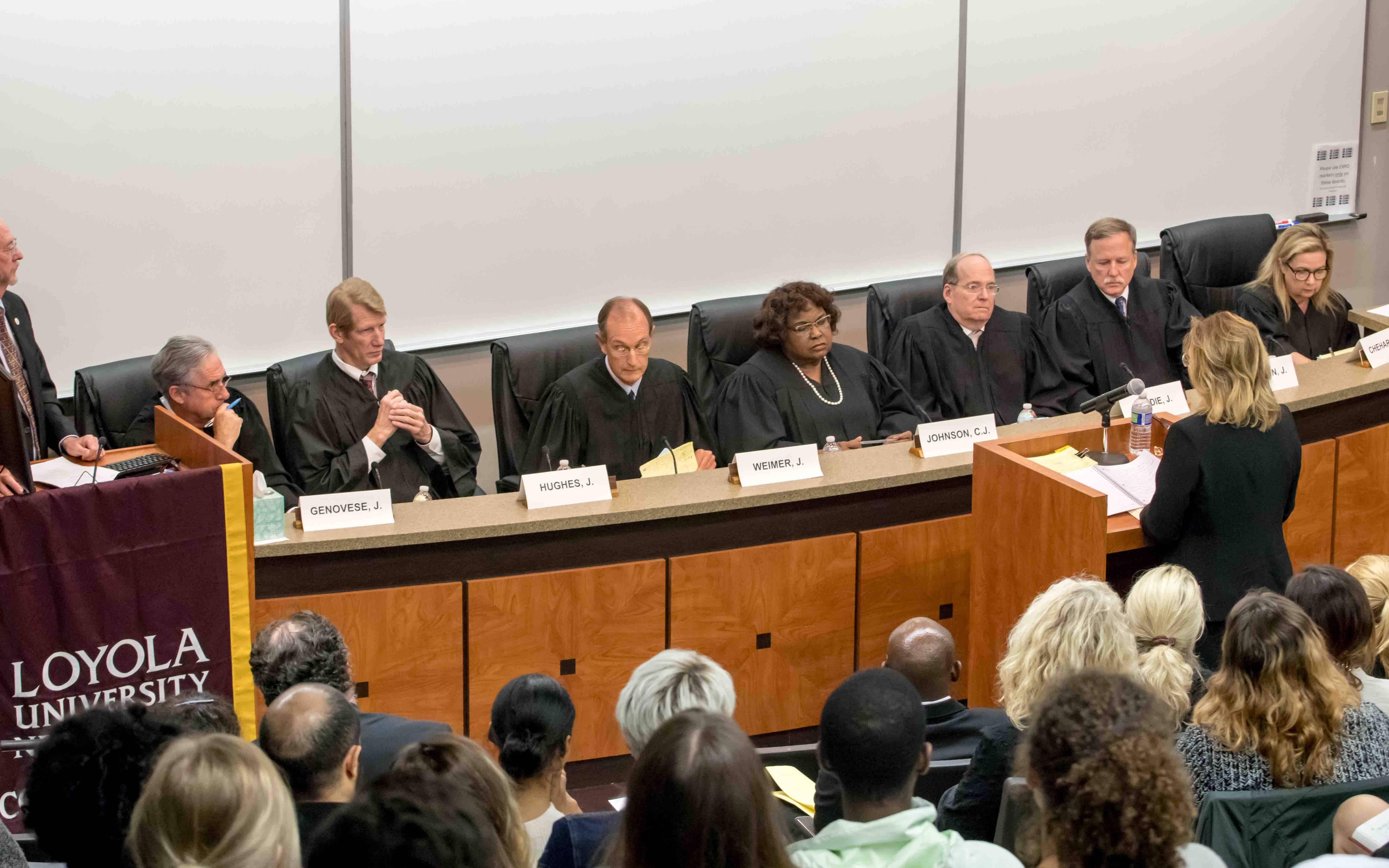 The Justices of the Louisiana Supreme Court held oral argument at the Loyola University College of Law on Monday, October 21, 2019.