CONTACT:

Trina S. Vincent
504-310-2590
| | |
| --- | --- |
| OCTOBER 22, 2019 | FOR IMMEDIATE RELEASE |
THE LOUISIANA DISTRICT JUDGES ASSOCIATION ELECTS NEW OFFICERS
At a meeting of its general membership on Monday, October 7, 2019, the Louisiana District Judges Association (LDJA) elected new officers for the 2019-2020 term. The officers are as follows:
President –Judge Guy Bradberry, 14th Judicial District Court
First Vice President– Judge Brady O'Callaghan, 1st Judicial District Court
Second Vice President– Judge Piper Griffin, Orleans Civil District Court
Secretary– Judge Scott U. Schlegel, 24th Judicial District Court
Treasurer – Judge Danny Ellender, 4th Judicial District Court
Immediate Past President – Judge Lisa Woodruff-White, East Baton Rouge Family Court
The Louisiana District Judges Association is a professional nonprofit corporation established in 1981. All Louisiana district judges with general jurisdiction and judges of Juvenile and Family Courts are eligible for membership. The mission of the LDJA includes the administration of justice, representation of the interests of judges, and the professional development of its membership to provide the greatest access to fair, just, and responsive trial courts. The newly elected officers will serve from October 7, 2019 through October 5, 2020.
-30-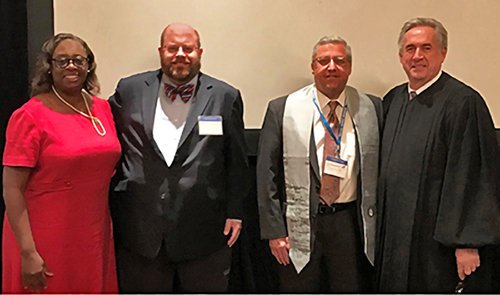 Pictured above are Judge Piper Griffin, Judge Brady O'Callaghan, Judge Guy Bradberry, and Justice James Genovese, who performed the swearing-in service on October 7, 2019. (Not present in the photo are Judge Scott Schlegel and Judge Danny Ellender.)