CONTACT:

Trina S. Vincent
504-310-2590
| | |
| --- | --- |
| JANUARY 27, 2020 | FOR IMMEDIATE RELEASE |
LOUISIANA SUPREME COURT HEARD ORAL ARGUMENT AT
TULANE UNIVERSITY LAW SCHOOL
(New Orleans, LA – January 27, 2020) The Louisiana Supreme Court Justices held oral argument at Tulane University Law School today, providing law students with the opportunity to observe the state's highest appellate court's proceedings.
The court heard three cases before an audience that also included university students from all majors, faculty, and the general public. The visit is part of ongoing outreach by the state's highest Court to provide the public with a sample of the complexity of litigation before the court.
Visiting other venues to hold court has become a tradition of the Louisiana Supreme Court.
"These visits simulate the court's early history when transportation to New Orleans for court was a challenge for citizens from other parishes," commented Chief Justice Bernette Joshua Johnson. "The Louisiana Supreme Court was constitutionally required to 'ride the circuit' by traveling to parishes throughout the state to hear oral argument, ensuring access to justice. We enjoy continuing that tradition of our former colleagues with future members of the Bar."
"The Court's visit provides an exceptional opportunity for students, faculty and the public to observe advocates and the Court in action," said Dean David Meyer. "It highlights the Court's commitment to access to justice and the strength of Louisiana's civil law tradition. We're grateful for this extraordinary partnership with the bench and bar in educating the next generation of lawyers."
Before arguments, the Justices took part in a luncheon where they met students and faculty to encourage greater understanding of the judicial system and the legal profession.
For more information visit lasc.org, or law.tulane.edu, contact Louisiana Supreme Court Public Information Specialist Trina S. Vincent, at tvincent@lasc.org or (504) 310-2590 or Tulane University Law School Director of Communications Alina Hernandez, at ahernandez4@tulane.edu (504) 865-5976.
-30-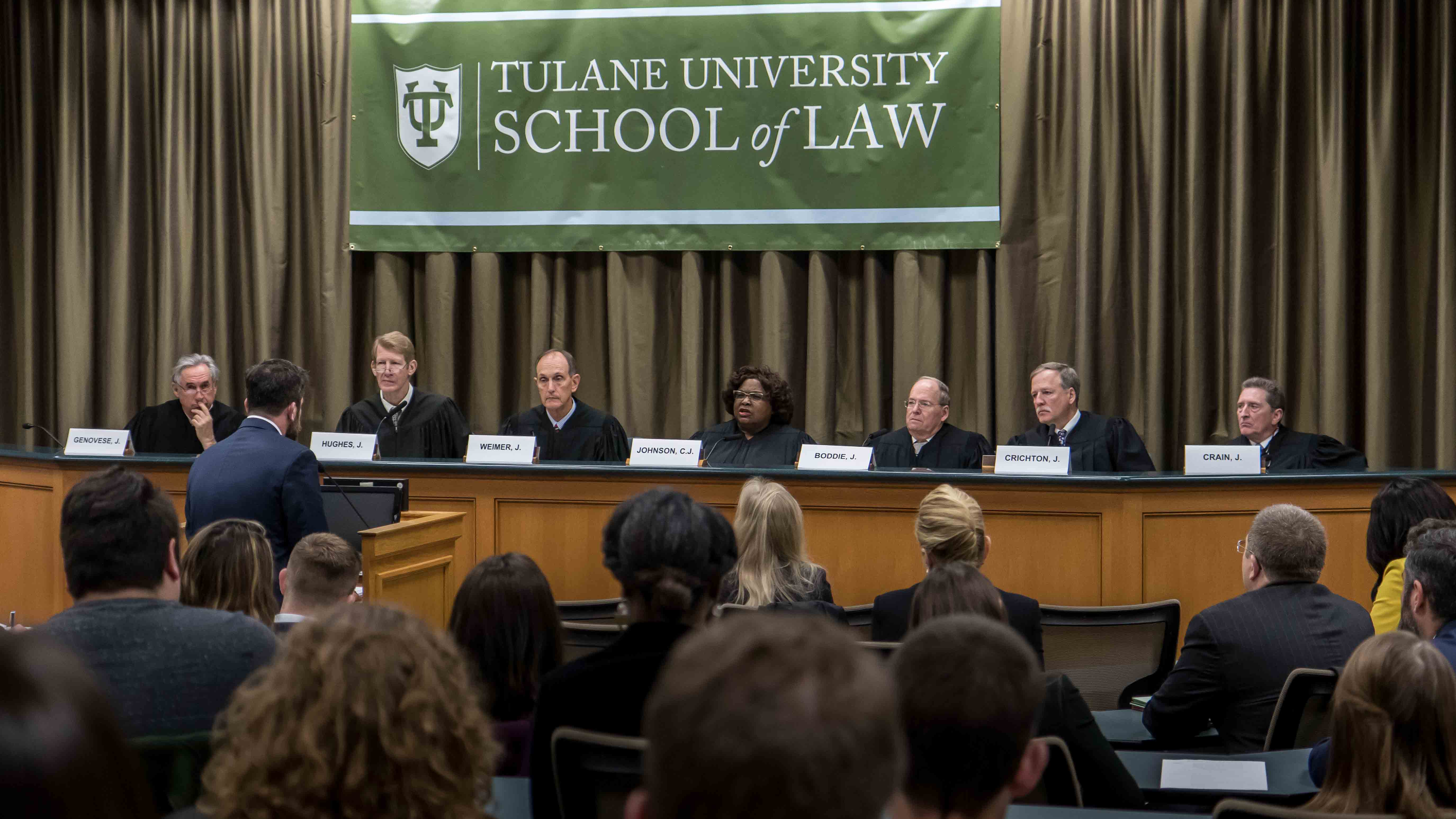 The Justices of the Louisiana Supreme Court held oral argument at Tulane University Law School on Monday, January 27, 2020.